Travel, training courses  and networking.

From 2016 October 5th to October 7th, the annual  convention Odoo Experience was celebrated in Belgium citty Lovaine-la neuve. And we took a plane up to there to know  the latest news and keep all of you informed.

Previously, on October 3th and 4th we were on an advanced courses about some of the most important news, as the new manufacturing module (MRP) and the Odoo fast adaptation tools  (Smart customization and Odoo Studio).

All the Landoo consultants and developers get around to Belgium and the experience was amazing. We could met face to face Fabian, and take a photo with him. He is  very kind and funny people, besides a genius at working.
More than 2.400 professionals from all over the world traveled to the event, where more than 150 presentations took place.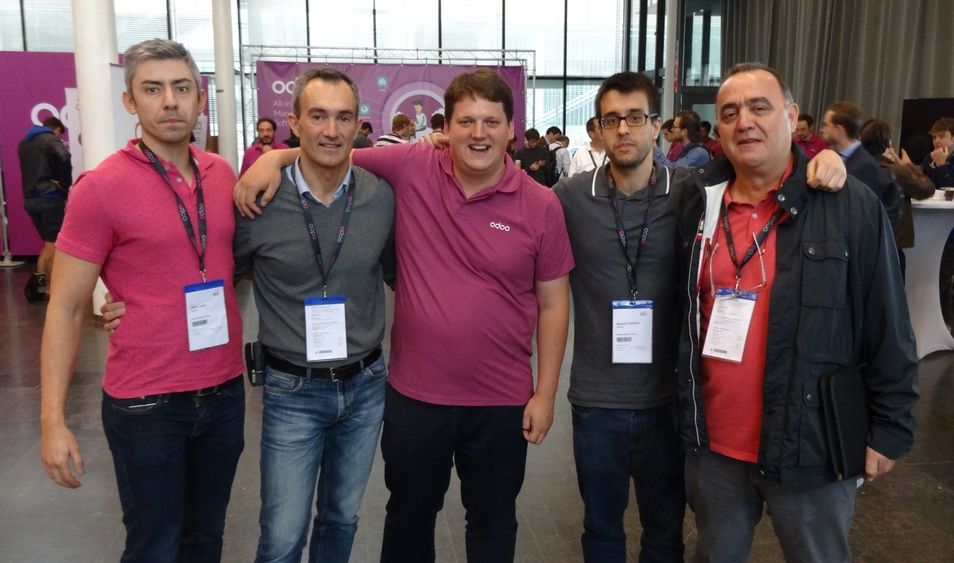 Main news
The focus of atention in V.10 has been to increase the manufacturing module (MRP) and to improve the users experience. Besides, new modules has been added or the existings has been improved, as we will tell you below.

MRP
The Odoo MRP module has been thoroughly reviewed by completing some of the shortcomings detected in previous versions.
In the final solution is perfectly integrated the entire manufacturing management:
BOM, Kits, Phantoms, co-products, variants,...

Routing,

Tablet version for the operators, with online information of the tasks to perform.

MPS, Master Plan Scheduler

Work centers scheduler

OEE (Overall Equipment Efficiency)

PLM (Product Lifecycle Management)

Quality management (including control points, plans and alerts),

Maintenance (preventive and corrective)
NOTE: Some of these functionalities are only available on Enterprise version.
HelpDesk
Odoo Helpdesk is our second brand new application in this release.
This application will help you to better manage your customer service or support tasks. Creation of tickets is easy and can be done via email, live chat sessions, website forms, or even other third-part apps you may currently use.
These tickets can be assigned manually, randomly, or balanced between team members based on your preference. Additionally, a public FAQ or Forum can be easily added to your page with a dashboard to help you to get a full overview on your activities, actions, and performance KPIs.
NOTE: Only avalaible on Enterprise version.
Odoo Studio
Odoo Studio is a brand new application to help you to create or customize other Odoo applications with adding a single line of code. While previously a task only possible with the help of your developers, creating a new Odoo app is now more accessible even for non-technical users.
Even these non-technical users will can:
Customize reports.

Add fields.

Easily update translations.


Design custom views.

Create new menus.
And much more. The possibilities for customization opportunities are virtually endless
NOTE: Only avalaible on Enterprise version.
eCommerce
With this new update, Odoo eCommerce has been significantly improved. In the backend, the dashboard now flawlessly integrates with Google Analytics to allow smart tracking of all your sales flows and visitor traffic. Statistics on sales and products help users to strategically manage their business. Odoo 10 now includes two new payments providers, and great news for developers, all of these providers are available in the Community Edition as well as Odoo Enterprise to help our entire community get started in selling with an online store!
New tools have been developed in order to better promote your online products. What can you do with Odoo?
Add multiple images within a single product.

Magnify those images.

Add attributes for specific products.

Display the product price with or without the calculated sales tax.
We have also included delivery number tracking that alerts visitors in real-time when a product is out-of-stock with a product page warning.
Website Builder
The web page editor has been completely redeveloped for better performance and optimized usability. Working with a bad editor platform is frusturating and time consuming. It does not happen yo you with the new Odoo Website Builder, thanks to these improves:
New features including the new media manager (for faster media file uploads)

The option to develop new building blocks in the Odoo standars.

A new customer Portal (with real-time sales follow-ups just like in Odoo Sales).

New and improved Blog customization tools.
Expenses (HHRR)

This application, as part of Human Resource Management, helps user to quickly and easily send their expense notes to their manager. Thanks to some of these new features, expense records can be sent by email with just a picture of the bill/receipt as an attachment.
Creating a record for reimbursement is now much simpler and can be done in just one click. Reports have also been improved, allowing managers to quickly track individual employees, teams, or even expense/product types.
NOTE: Only avalaible on Enterprise version.
New API and better performance
In an effort to fully modernize the software, change to a new and improved API was necessary. The old API code has been deprecated, resulting in massive speed/load time improvement. In other words, less time to get the expected results.
Others changes in the backend also help to optimize overall performance, such as faster breadcrumb redirects. The Website pages are much quicker due to QWeb compilation, page caching, and improved controllers codes.
eMailing
In this new version, this important Marketing tool has been thoroughly checked.
Its user interface has been improved, the message design possibilities and the delivery tracking.
An essential toool!